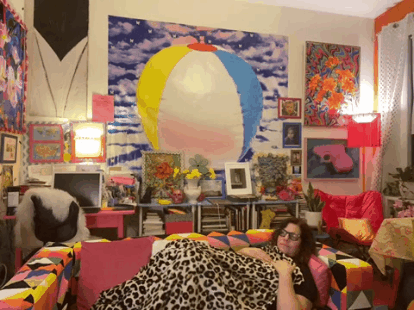 "Melissa Eder understands color."
Art F City, Monday Links: Spring Forward, by Paul Legault, March 9, 2015
www.vice.com/en/article/kzd7wv/these-ph…
Inspirational Quotes:
"Love is the Icon" Barry White, (White, Jack Perry, 1994)
"Hey, hey, mama said the way you move....gonna make you sweat....gonna make you groove....." (from Black Dog by Led Zeppelin, 1971)
"What a Long Strange Trip It's Been" (The Grateful Dead, Written by Fred Thomas, 1977)
'"¡que día bonito!" (Un Dia Bonito by Eddie Palmieri, The Sun of Latin Music, 1974)
"If you know your history
Then you would know where you're coming from
Then you wouldn't have to ask me
Who the 'eck do I think I am" (Buffalo Soldier, Written by King Sporty and Bob Marley, 1983)
"I ask no favor for my sex. All I ask of our brethren is that they take their feet off our necks." (Justice Ruth Bader Ginsberg)
"The truth will set you free, but first it will piss you off." (Gloria Steinem)
"Don't Ever Change." (Anonymous, Shore Regional High School Yearbook, West Long Branch, NJ, 1981)
Bio:
Ms. Eder received her B.F.A. in painting from Parsons School of Design in New York City where she studied with Sean Scully and a M.F.A. in combined media from Hunter College in New York City where she studied with Robert Morris and received a Meritorious Award from the Alumni Association.
As a visual artist, her work has been shown nationally and internationally in such venues as the Bronx Museum of the Arts, New York University's Broadway Windows Gallery, Art in General, the Aperture Foundation, the Humble Arts Foundation, the Whitney Houston Biennial, Paradice Palase, Brooklyn, NY and in Kansas City, Missouri and in Berlin, London, Rome and Korea. She participated in the Satellite Art Show during Art Basel Miami 2016.
She was an artist-in-residence at the Henry Street Settlement in New York City, the Saltonstall Foundation, Ithaca, New York and the Atlantic Center for the Arts, New Smyrna Beach, Florida as selected by photographer Graciela Iturbide and at Casa Na Ilha, Ilhabela, Brasil.
In 2011, her work was selected by Eric C. Shiner, the former director of the Andy Warhol Museum for his curated exhibit on CurateNYC. Her work was also chosen by Sarah Hasted for Photography Now, 2004, for the Photography Quarterly, Woodstock, New York. During the summer of 2014, her work was included in the Aperture Foundation's Summer Open and was chosen from over 860 applicants. She was selected to design a piano for the public art project for Sing for Hope during the summer of 2013 that was displayed at Lincoln Center.
She has received numerous grants including funding from the Puffin Foundation and two Manhattan Community Arts Fund grants from the Lower Manhattan Cultural Council.
Her work has been reviewed by the New York Times, highlighted in Feature Shoot, Co Design, the Huffington Post, the Collector Daily, VICE magazine and various other publications.
She lives in New York City and works in Brooklyn as an artist-in-residence through the Chashama Studio Residency. She is an Instructor of Critical Thinking for the City University of New York at the Borough of Manhattan Community College. She was born in Long Branch, New Jersey.